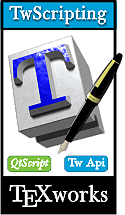 This information, prepared for our internal use, focuses on a scripting environment, QtScript, that has been built in as the native scripting tool for Tw. QtScript is an EMCA script, virtually equivalent to JavaScript with some additional modifications (mostly in prototyping) made by Nokia the makers of Qt, and the Api that the developers make available for Tw itself.
There are Tw modules for incorporating Python and Lua as well, though at present the full Tw Api may not be available to those tools.
I've tried here merely to pull together information on the Api for Tw and some references on using QtScript peculiar to Tw, that we rely on and use.
I have tried to generalise these where this may be useful.
It is my hope that others may find this some help, and we give it back as our small contribution to the Tw and TeX community.
Disclaimer
I can make no promises as to the accuracy of this information, nor provide any warranty for safe application in any thing you choose to do, nor be held responsible for anything that happens from your choice to use any information contained in here or pointed to or linked to elsewhere.
Copyright
copyright (c) 2010 2011 2012 Paul Anthony Norman. http://PaulANorman.com P.O. Box 1005, Nelson 7040, New Zealand.
Portions copyright,
TeX Users Group - President Karl Berry karl@freefriends.org
Jonathan Kew jfkthame@googlemail.com
Stefan Löffler st.loeffler@gmail.com
Alain Delmotte esperanto@swing.be
Kevin van Zonneveld http://phpjs.org php.js is copyright 2010 .
Triiple licensed under the
GPL (GPL-LICENSE.txt)
Permission is hereby granted, free of charge, to any person obtaining a
copy of this software and associated documentation files (the
"Software"), to deal in the Software without restriction, including
without limitation the rights to use, copy, modify, merge, publish,
distribute, sublicense, and/or sell copies of the Software, and to
permit persons to whom the Software is furnished to do so, subject to
the following conditions:
The above copyright notice and this permission notice shall be included
in all copies or substantial portions of the Software.
THE SOFTWARE IS PROVIDED "AS IS", WITHOUT WARRANTY OF ANY KIND, EXPRESS
OR IMPLIED, INCLUDING BUT NOT LIMITED TO THE WARRANTIES OF
MERCHANTABILITY, FITNESS FOR A PARTICULAR PURPOSE AND NONINFRINGEMENT.
IN NO EVENT SHALL PAUL ANTHONY NORMAN BE LIABLE FOR ANY CLAIM, DAMAGES
OR OTHER LIABILITY, WHETHER IN AN ACTION OF CONTRACT, TORT OR OTHERWISE,
ARISING FROM, OUT OF OR IN CONNECTION WITH THE SOFTWARE OR THE USE OR
OTHER DEALINGS IN EITHER THE SOFTWARE OR DOCUMENTATION.
MIT (MIT-LICENSE.txt)
licenses.
GNU Free Documentation License version 1.3 http://www.gnu.org/licenses/fdl.html
TwScripting Notes page: http://twscript.paulanorman.com
Home Page: http://PaulANorman.com
Created with the Personal Edition of HelpNDoc: Full featured Documentation generator